02 Oct
PDR Technician Earnings - Fact or Fiction?

Yes, that's right - the claim made by some PDR Technicians are that an experienced PDR technician can earn as much as surgeons! The paintless dent removal industry has existed for the past 30 years in Australia and not many know about its existence! I would estimate that very few - perhaps 1 or 2 per cent of Australians have heard of this industry. Knowledge of those that do is often vague - referring to 'sucking the dents out'. The industry has progressed technologically!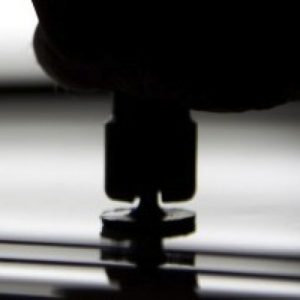 So when claims that there are people who train for up to a year or two and begin earning such money within 5 years, the reaction is often swift and hostile. I am often met with blank looks - friends politely nod and smile knowing that I normally don't tell lies. Alas few if any accept the claims.
After all how can such an industry exist for so many years and not seem to appear in the media? How can people not know about it by word of mouth! The paintless dent removal industry has been rather secretive for years and deliberately so! Why would anyone want others to know what you are earning let alone how!
It may surprise you that actually the media has reported on this industry. After the controversial claims of bad practice by
"overseas hail chasers" were made after the 2011 Christmas Day Melbourne hailstorm. Check the article on PDR technicians produced by The Age. Actually it was this media hype that consequently put the paintless dent removal industry into the spotlight!
"...One estimate puts chasers' earnings at $5000 to $10,000 a week. It's all pocketed, with no insurance costs to cover, no workplace premiums, no tax paid, no responsibility."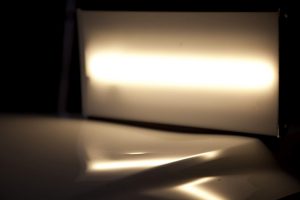 Whatever the article set out to achieve ultimately underestimated the public reaction. Enquiries into pdr training skyrocketed!
Surgeons versus PDR Technicians
Analysing the earnings of the medical profession quoted by business insider - $250,000 to $500000 per year. Let's not forget the investment into education and the years to get there! Just the cost of education can amount to $10,000 per year after HECS! We have not yet accounted for insurance. OK fair enough, PDR Technicians in the infancy of the industry paid between $10,000 to $40,000 for training or a business franchise in paintless dent removal industry. Now however, the cost of training PDR technicians have come down considerably to as low as $2900 for a 5 day PDR course. Can it get any lower? Perhaps in the future - currently it has stabilised limited by the earnings of the PDR technicians themselves. For the time being, any lower than this and PDR technicians may as well just repair a car rather than train others - they can earn more!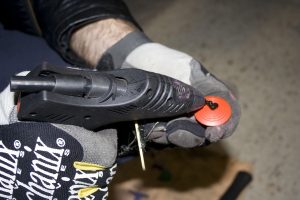 Paintless Dent Removal Earnings can be substantial
Dwelling into what paintless dent removal is and their earnings - simply put, it is the art of removing dents without the requirement of painting the vehicle. The theory is that keeping the original factory paint work is important. PDR technicians complete an average hail damaged car within a day. Ok so how can a PDR Technician clear 250K per year?
Consider a quotation on an average vehicle being about $2000-3000 during a hailstorm. Between 60-70 percent of this quotation goes to the PDR Technician. So even averaging $1000 per day to underestimate it during lost time, you are talking $200K to $300K per year!
Still not convinced? OK so not everyone can leave their family and chase hail around the country? There has to be an understanding between spouse and PDR Technician for them to go away for weeks or even months at a time not seeing their family!
The PDR Technician and Retail Sector Earnings

Well there is the retail market too. In the retail sector, paintless dent removal technicians contract to car sales yards, auctions, car rental fleet cars and the private clients to remove accidental vehicle damage such as car park and door dents. Although this usually requires more effort to come close to the larger earnings by hail repair standards, it still can be achieved! Here's why...
The average rate for repair of one dent being $80 to $130 per dent depending on size or difficulty (not over-inflated when considering call out fees for plumbers and electricians). Repair one dent and charge even $80. Repairing 5 dents a day nets you $400! One dent can take a few minutes to 20 minutes to repair depending on experience. So hypothetically, even a single client can net $146000 per year! It is not uncommon to get several clients in a day but not every day. However, considering repeat clients and the odd customers who want their cars 'clean' of dents (cars are the second most important commodity in Australia), and further referrals for a good PDR technician, the numbers start adding up to that figure of $250k per year. And let's face it, and you check yourself the next time you are stuck in a traffic jam, check the side of the cars for dents - you will be stunned to know how many dents there are around you! One in three readers of this article should have a dent on their vehicle...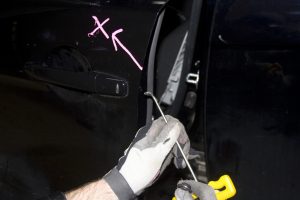 So who qualified for paintless dent removal?
The next most common question I get asked is if I am not a panel beater, does it matter? The answer is no. Well, yes, a panel beater has knowledge of vehicles - models, panels, parts - they spend four years minimum learning the trade at TAFE and through apprenticeships. But so do spray painters. How about mechanics and their knowledge of cars. Throw in auto-scratch repairers, car detailers, window tinters and paint protection technicians. Yes, panel beaters are the most frequent clients for paintless dent removal training courses. But PDR courses can adopt other related trades.
What if I am not in a trade?
A course run in 2012 attracted a person who worked in administration within a bank. Yes a banker. It was our first non-industry person to train. We took on the challenge of training him but so did he! After a few hours on the first day of training, not only did he flourish, he actually excelled! Among his colleagues, it became apparent he was consistently producing the best dents amongst his group which included a panel beater! How can this be? He never touched a car in his life! He had to be taught how to remove and replace parts. Well, it is often said that attitude has a lot to do with success in PDR courses. He had everything to gain.
"Sometimes panel beaters are harder to teach if they come in with the wrong attitude, lack of patience or being two heavy handed."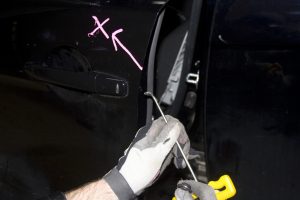 Are there women PDR technicians?
There is no secret that the paintless dent repair industry like the auto vehicle repair industry would be male dominated. Talking to a PDR trainer in 2015 who had trained mostly men but a few women. Those women however overall seemed to produce better work perhaps because they are not so "heavy handed" and perhaps some added "determination". There are no conceivable reasons or barriers not to have women in the paintless dent repair industry.
A Career Changer?
The first phone call from clients tells me a lot about the person applying, their plans and underlying reasons. Some are subtle, others attempt to dominate the phone call - others simply know what they have researched and go for it! One of the myths however I immediately dispel is that this is not a "job" career change. Paintless dent removal is a business, a contractual business. Whether you work for yourself or contract to others it still is a business operation - no wages or salaries. So a sense of security is lost as well as challenges in finding the working clients. But there is a sense of freedom to work your own hours and choose your own clients once established. Despite the pros and cons, those that flourish are usually well known for their quality.
Can anyone do paintless dent removal?
In the extensive research across the internet and reading the many minds of PDR technicians themselves, there is a unique set of circumstances and conditions that has led PDR technicians to approach the industry and succeed. PDR technicians have the following qualities:
determination
perseverance
self belief to succeed at all odds
hard working
good eyesight
business minded
innovative
ability to work alone or in a team
ability to work in a variety of conditions
flexible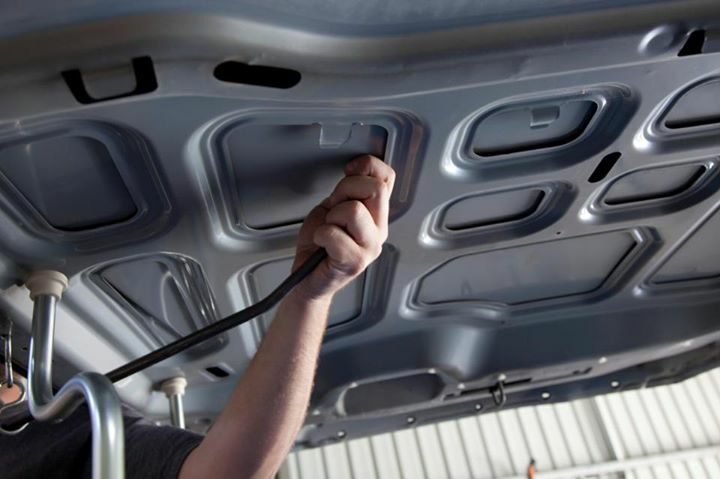 Most of the older generation of PDR technicians were fortunate enough to know or come across another PDR technician and get trained. Increasingly though more are getting into the industry through PDR training companies. The qualities listed above though are still important.
Success is hard earned
Becoming a PDR technician requires complete determination and perseverance because it is not easy to begun with. The first few hours of a paintless dent removal training course quickly sets the record straight: metal tool on metal panel is not a good mix. Paintless dent removal requires ultimate skill, determination and perseverance. It is too easy to get wrong, too easy to quit! Hundreds of hours of practice to make it through and become comfortable. In fact, two different sources of "training on a bonnet stand in the lounge room next to their wife watching TV" says it all. Just like intense determined training gets some to the olympians to a gold medal - it takes such practice and determination to succeed in PDR.
Supply and demand
The old rule of "supply and demand" has a lot to do with the earnings of PDR Technicians. There are conflicting reports on there being too many pdr technicians out there. Are they simply trying to protect the industry for themselves? Because every time there is a major hailstorm, vehicle repairs often take up to 12 to 18 months to complete! Why? Supply and demand - there simply is a lack of quality pdr technicians in this country to do an ample amount of work. Furthermore, should we allow overseas PDR technicians to the work Australians can do? Heaven forbid when Sydney with a population of 5 million gets another April 1999 hailstorm!
Why we still get car loving repairers into spray painting and panel beating when there are opportunities to get into the paintless dent removal industry defies belief! Perhaps redundant employees from Toyota, Ford or Holden may consider cashing in their redundancy package for training as a future investment or contact their employee support program? Some have already made the move!
Conclusion: Who will ride the lucrative rollercoaster?
Convincing anyone to enter this industry is like drawing blood from a stone! Making the change is difficult, requires planning and commitment. Do the risks outweigh the odds of success? You never know if you have what it takes to get into this industry. From the writing on the wall if you get through, whoever does ride the rollercoaster may be set for a lucrative and rewarding career! You never know if you have what it takes to get into this industry.To this day, I have yet to see an unsatisfied PDR Technician!
If you are a PDR Technician looking for more contacts or a pdr technician wishing to work in Australia, PDR Technician website can assist!
[bookly-calendar]