Quotation and Insurance
The next stage in the process once we have the quotation completed is for insurance to be provided with the details of this quotation. There is never a guarantee that you will be provided with authorisation and you never know if other companies have also provided quotations for the same vehicle (some customers shop around).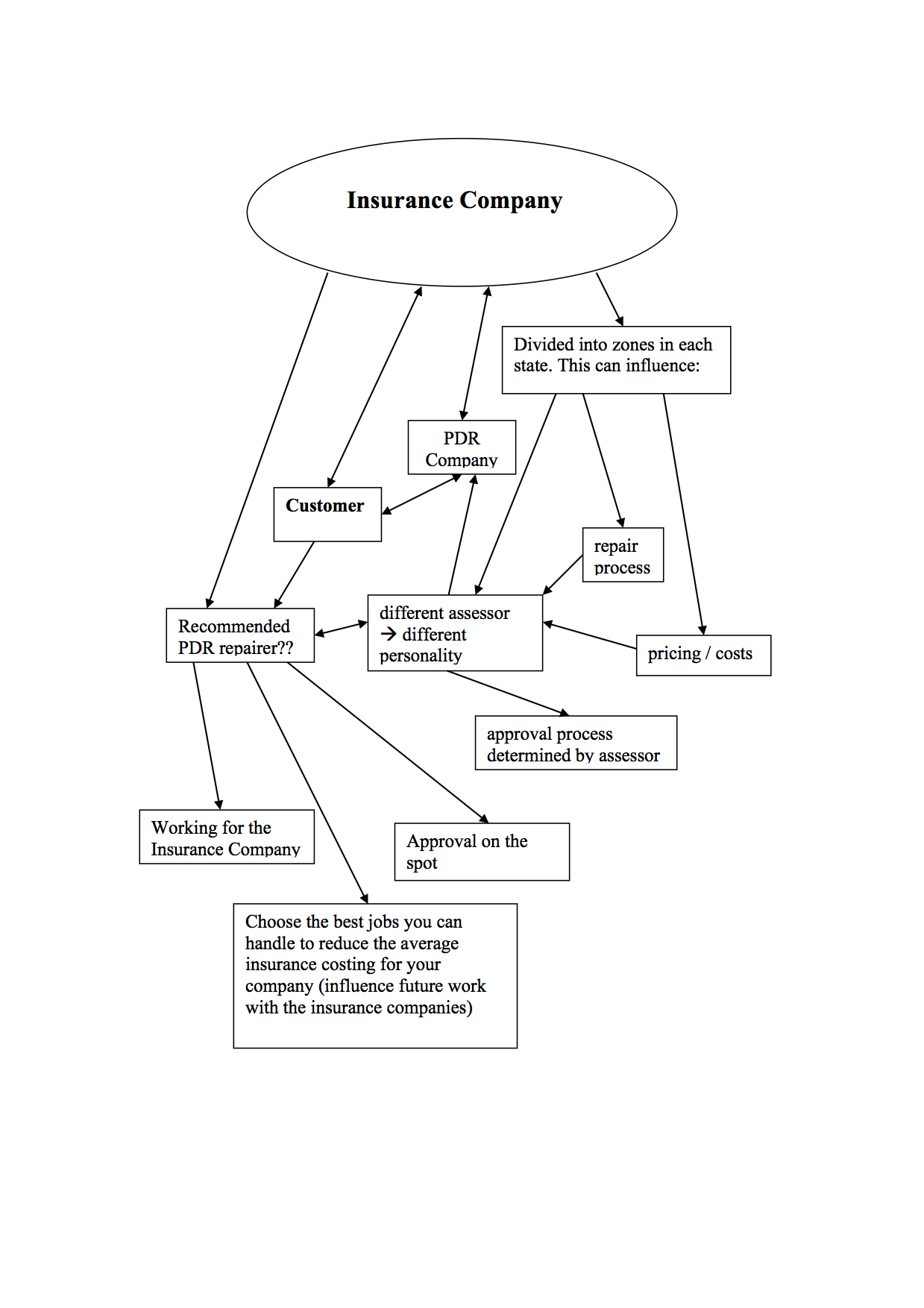 All insurance companies have their own process in dealing with claims. Some work with online systems whilst others work with specially set up emails. Nevertheless, you require to contact each insurance company in order to find out what system they have in place for quotations to be submitted. In some cases, the customer may have brought you a vehicle insured under business which sometimes deal with different departments within the same insurance company and may have different systems again. During particular catastrophic hailstorms, sometimes special phone numbers are set up specifically for that storm and in an assessing centre. Yes some headache! There is no easy way out except to build a database of contacts as you move along. And then is starts all over again with invoicing! If you remember and have a little time on hand, you may wish to ask about invoicing whilst you find out information about quotations.
In recent years, take overs and amalgamations have built rather large insurance or groups of companies. The major insurance companies are:
IAG Group of companies nation wide (NRMA in NSW, RACV Victoria, RACQ Queensland, SGIC South Australia, SGIO Western Australia)
Suncorp and the Suncorp Group (SUNCORP, GIO, AMP, HONDA, VERO, AAMI, APIA, JUST CARS, SHANNONS AND BINGLE)
AAMI part of Suncorp
CGU is also part of the IAG
QBE Insurance
Allianz

Other Insurance companies are listed on the insurance companies page.

The leader in hail insurance would have to be the IAG group of companies, and this is especially true for hailstorms. Some companies may be more established in particular regions. AAMI seems to be very popular in Victoria whereas RAA is one of the popular companies in South Australia. A knowledge of the local insurance companies can be crucial in some storm events. Some companies such as NRMA Insurance and the other IAG Partners have already set up preferred repairers or national repairer networks or are in the process of doing so. Repairer networks are contractual agreements between the insurance companies and the repairer that agree to setup and do work in any part of Australia or the region they are assigned. Setting up in one of the stronger areas may mean you will get limited work.
Invitation for Quotations
Customers will come to you in a variety of ways. They could have called from your website, yellow pages or other forms of advertising, come in from the street after seeing your sign and set up, or been sent by panel shops or insurance companies themselves. In the case of insurance companies, the process if submitting a claim is known as being invited! Whether it is an online system or the email system, you need to request an invitation to provide a quotation – more like common courtesy.
Making contact
Each insurance company has their own contact details and also some are more organised than others in dealing with hailstorms specifically. This probably is because they may specialise and have more of a market share in terms of hailstorms and automobile insurance cover. Some insurance companies may not find it worthwhile to deal with hailstorms given they may not receive 100's or 1000s of claims. These companies subsidise to external agent companies or independent assessors. An example of a few top agent companies are AAMC, Innovation Group and CERNO.
When making contact, always be polite no matter how frustrated you may be and how many phone calls or departments you may have been switched to you to get to that point. You should immediately inform them that you are a repairer and not the customer as they are not going to forward details unless you are able to provide them with sufficient name and phone number of the client for instance.
There are several reasons why you would contact insurance companies. With regards to quotations, you may wish to find out procedures in submitting claims, phone numbers with regards to claims, find the claim number on a claim, email addresses, assessor details and authorisations. Because at times you may be on the same waiting cue as customers, it is probably a good idea to find out any other phone numbers that may exist directly to an assessing centre, or an assessing department. This could save you in some cases up to an hour
You could also make contact to find out from feedback why you failed in an attempt for a job to get some idea why – the main reason is usually price but it may have been the customer prefered some other company, or that the customer was paid out for the vehicle in order to repair themselves.
Sending Quotations
There is specific structure expected when sending an emailed quotation. Most companies expect the quotation to be sent as well as images of the vehicle discussed in this previous document. The complete quotation and images should be attached (beware of the acceptable size for each attachment and for the total size of attachments to be sent with the email that may be prevented from being received and the quotation taking much longer to be processed!)
The structure of the email should be similar to the following but always check with the insurance companies themselves.
Subject : INS/1200567 (Claim number only – nothing else in the subject header)
——————————————
In the body of the email, don't forget to supply the details of the vehicle registration number, the owner's name, your details of a permanent address
Rego: Hail-007
Owner: Janine Hail Castro
Subaru Liberty Green
Mr Michael Hailstone
The Hail Dent
67 Hail Avenue
Hail West, NSW
Postal correspondence
PO Box 57
Oak Hail NSW 2222
——————————————-
The reasons for this structure is because the emails are automatically filtered. They may have systems in place that pick up these lost in space emails but that means administration and time taken to act. In the meanwhile, the customer may have waited too long finding someone else. Furthermore, there are specific time frames or quotation submission dates to abide by and then other companies may be asked to take on the quotation. In the end, for a simple error in the email, you could lose the job. It is always a good idea to send them the email and follow up that they have received within the first hour or so. If not always resend whilst you are online after finding out why it did not send successfully. Once it has been received, you should allow about 2 – 3 days before contacting them to see how things are progressing. Of course you will get to know the turn around period for specific insurance companies. Remember, that the customers do not wish to wait long periods of time. You may be surprised that it has progressed quickly and an authorisation is ready.

Online Submission Systems

Online submission systems exist for the major insurance companies. The most comprehensive system ORM for the IAG Group but you require to be an approved repairer for this system. The Suncorp Group use PNet as a communication and quote submission system. The ARNIE insurance system is used by the Suncorp Group and again it is only provided to approved repairers. Estimage is also a software system used by several companies to submit quotations using a specific format.
There are advantages on being on any or all of these systems. First, there is a greater chance of being approved for repairs once on this system as compared to comparable quotes not on the system. This presents less processing work for the insurance companies as compared to others submitting say by emails. The systems also tend to authorise quotations for repairs more rapidly.
Furthermore, most PDR software packages tend to communicate with most if not all these insurance systems. In this way, all you require to do is enter the data and the software packages can be used to submit jobs and receive updates of status of the jobs. Packages like Estimage cost for membership and so do the software packages.
Related Terms: