PDR – Total Quality Management (TQM)
Total Quality Management is the latest in encompassing all aspects of the company model, the customer and the suppliers. An analogy in PDR could be associated with customer or clients and the insurance company as supplying the work. If done correctly, everything will be done correctly each time. Because of the dynamic nature and uncertainties of PDR and the chaotic market, it would be extremely difficult to sustain Total Quality Management. The most ideal scenario would be to adjust to target TQM in each situation. In other words, there may not always be one plan that fits all environments because PDR does not always have the comfort of one premises. Importantly though is to quickly adjust into a routine of targeting TQM.
The following is a general Total Quality Management Model associated with a PDR setup.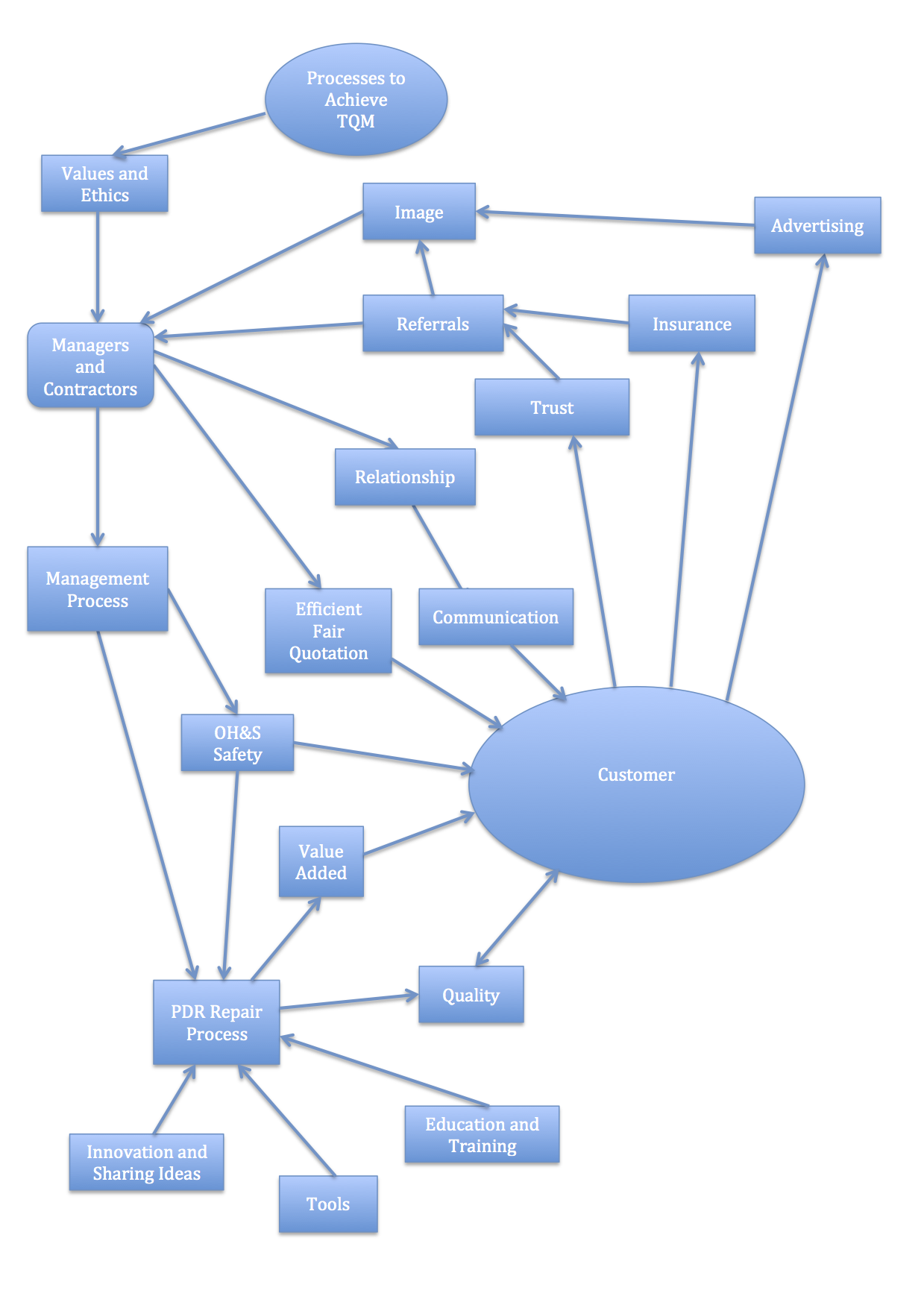 One of the common attributes beyond doubt as has been discussed throughout the modules is that Total Quality Management is customer focused based on PDR repair and service outcomes. Furthermore it:
is continuous
involves all members in the PDR Team including feedback
involves processes not just product and service of PDR
is transparent to all PDR members
analyses customer feedback
measures efficiencies, effectiveness and productivity
encourages research of new PDR tools (innovation) and training of staff
aims to reduce cost including mininising broken parts and improving parts management
involves continuous analysis of quotation, pricing and repair time management processes
Although there are many uncertainties with PDR operations and PDR Technicians may feel that a very complex operation is not necessary, it is important to consider a Quality Management approach regardless even if it is a simplified version of this generalised model. Even if it is just kept in mind it will assist in maintaining some set of standards in terms of overall quality.
Related Terms: