PDR – The Context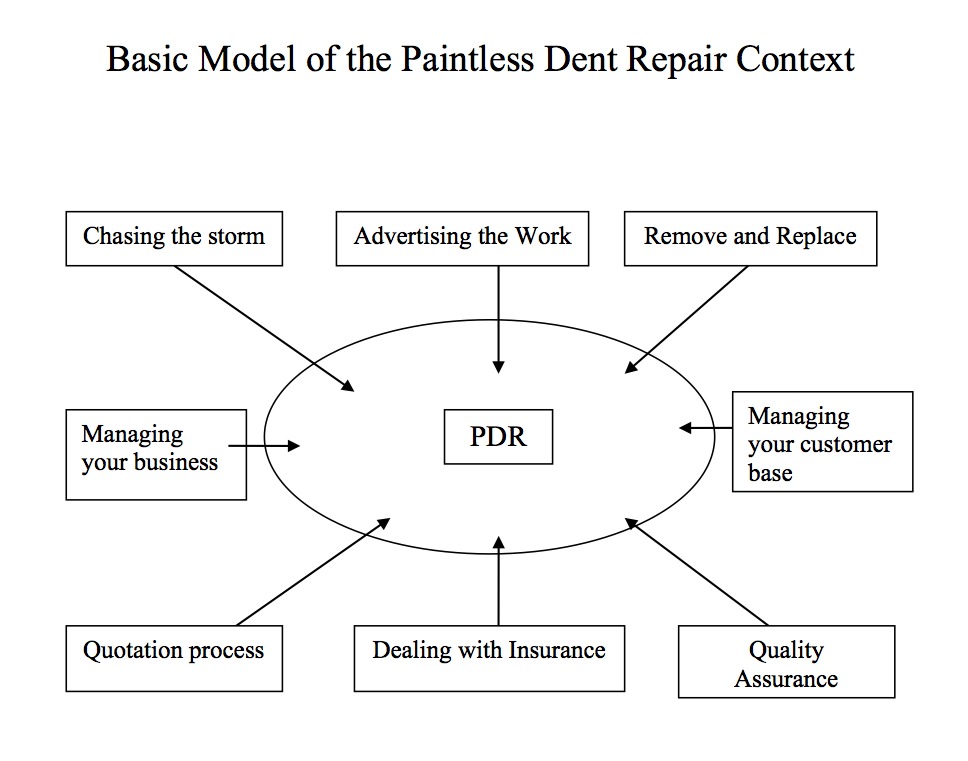 Paintless Dent Repair is only part of an extensive and organised process. The diagram provides a basic insight of the characteristics of the typical PDR operation. It illustrates, just like any other business in the repair industry, PDR is closely associated with the insurance industry, its customer base and management of its work load. However, it is unique in some respects in that it is typically a mobile operation and the majority of the work is seasonal (dominated by the storm season).
Furthermore, the PDR business is part of competitive repair industry – some that have been established for at least half a century. Naturally there was, and probably still is some skepticism as to the effectiveness of PDR by the panel beating industry. But this is rapidly changing with many panel shop businesses acquiring the skills of PDR or hiring technicians to work in their workshop.
The PDR business structure must assimilate this business environment. Moreover, consider it has to accommodate a broad spectrum of factors, from chasing the storm (and associated clients) to managing various components of the insurance process to the business management itself. The various models considered in this manual to various degrees encompass at least some or most of these processes. A more detailed explanation of these processes and models are discussed with various scenarios introduced. The key focus areas however will be in the process of the repair itself and how business structure, organisation and management are crucial to the growth and success of the business. In some ways, this course is written from a perspective from within realistic case study – one that lead to the establishment and success of an actual PDR business.
Being such a relatively small industry and since companies regularly come together during hailstorms, many business owners and technicians are familiar with each other and their businesses. This closeness provided an opportunity to compare the strengths and weaknesses of organisational structures within the industry. It is certainly a different beast when comparing a small unit consisting of two technicians compared to the major players with 50 technicians operating shift work during a major hailstorm.
Key Systems associated with the Paintless Dent Repair Process
Although there may be unique variations, the basic structure a typical PDR business needs to consider – prior, during and after the company has been set up are as follows:
Chasing the Storms and Work
Advertising for customers
Setting up the business premises
Quotation process
Parts Ordering
Remove and Replace (Remove)
PDR the actual pushing of dents
Remove and Replace (Replace)
Car pickup – excess payment, dealing with insurance
Accounting, invoicing,payments, Taxation and GST
Related Terms: