PDR Business Model I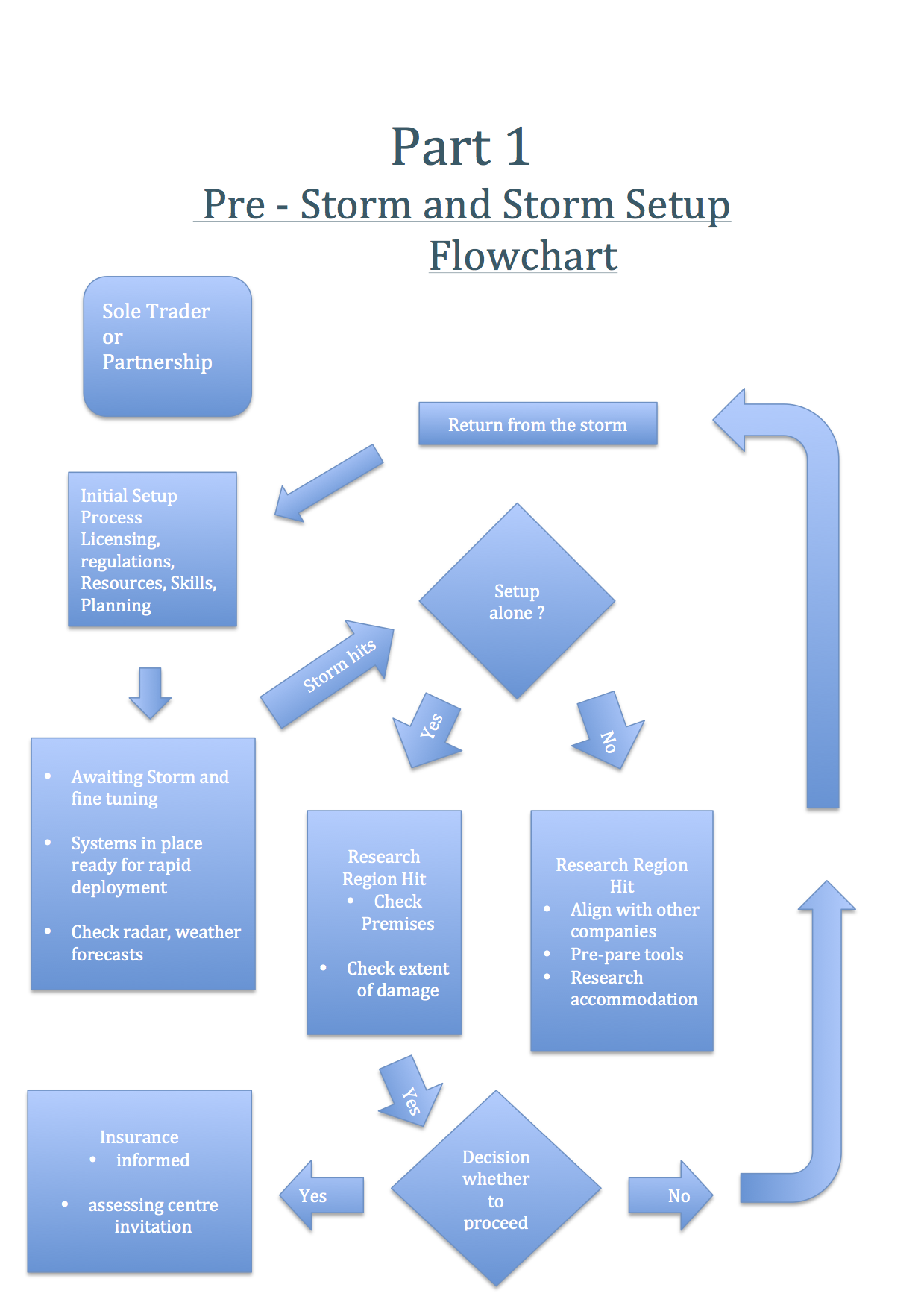 PDR Business Model I focuses on a sole trader running a sole business. In essence, a lone technician require a specific framework of procedures to complete the entire processes associated with Paintless Dent Repair.
The preparation begins with the plans put in place for rapid deployment, ensuring all tools are complete and weather forecasts monitored. Once the storm hits, the rapid deployment takes place and depending on the business set up whether to work alone and managing its own work or to alone with others is the most ideal option. The diagram illustrates in a basic set up decision making process typical decisions to be made whilst under the initial stages of the storm.
Please note this is a possible process and variations depending on individual needs and time frames as well as other factors can occur. A technician or team of technicians may opt to wait a week or so and then head into the storm once work is found specifically if their model is only to work with other companies. This saves on accommodation and other initial costs.
Alternatively, they may opt to head into the storm to research which setup and company best suites their needs be it financial or work place environment or even simply just noting the length of possible time they may be in the storm. It may also be conditions associated with the type of damage they are expected to repair – some companies approach all dents whilst others only dwell on smaller dents with the intention of not being long term. This provides variation and ample options be it in the short term or the long term plans. What this means is that technicians may opt to try one company and eventually moving on to another. The larger the storm event, generally the more options available.
This model offers more short term and immediate gain but perhaps less security particularly if the reliance is on other companies to provide the work. The deployment and model set up though requires less overheads and is less complex.
Profit margins depend on the setup model. If the team of technicians set up their own premises similar to the management model II, then profits are maximised and shared amongst its members. In the case where aligned with other companies, there is a specific percentage that is standard earnings – generally 50-60% of profits and sometimes higher.
Related Terms: