Business Setup Plans – The Premises Layout
The setup plan layout of any PDR premises although not as stringent in its requirements does require specific layout to work effectively. Of course, it does depend on the size of the business or company and the work flow as to the layout but basically, the underlying components are generally the same. First though, let us consider the underlying key components for the workplace layout:
– smooth concrete floors for lights, stands and wheeled toolboxes to be moved around freely
– a clean environment free of chemicals, grease, dust, moisture and leaks
– sufficient space for technicians to work including moving around lighting at various angles and all around the vehicle as well as space for the bonnet and boot lids on a stand
– sufficient space for cars to be turned and moved when completed or if simply to turn around
– sufficient drive way or road parking allocations for customers and also repaired vehicles
– an air conditioned office for management and customers to meet managers – air conditioning is also important for computer equipment
– doors wide enough for vehicles to pass through preferably more than one door such that vehicles can pass through and not required to be turned around (good for assessing)
– insulation for workers particularly during summer
– ample consistent and appropriate lighting for dents to be properly estimated, quoted and repaired (too much glare can be an issue in seeing dents for the PDR technicians)
– drainage for excess water for washing vehicles
– security alarms and locks to lock vehicles at night (insurance requirements and also peace of mind for customers)
– optional – phone lines for phones, internet and fax services although this is becoming an obsolete technology with wireless services favoured
– cost (the higher the cost for the premises may outweigh the risk of no work or the importance to have work)
– clean toilet facilities for staff and ideally for the public (not always will this be possible due to layout and O H & S requirements – public walking into the workshop – would you eat at a restaurant where the toilets are filthy)
The work rate for a typical PDR company does have a relatively medium to rapid turn-over – at least one vehicle per day for each technician. In some storms, this varies depending on the extent of the damage to one car per two or so days to as much as 3 cars per day. So this requires consideration of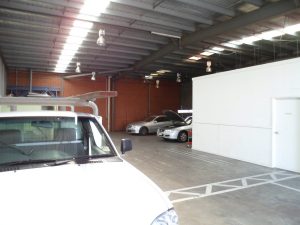 working bays for each technician and a thoroughfare for vehicles to pass in and out of each working bay without affecting others having to move vehicles
parking bays for completed vehicles given the typical time frame allocated for vehicles from customer drop off to pickup is usually 3 days
parking bays for a few customers
Another factor requiring consideration is the number of technicians working in the storm. Most PDR companies do consider the use of working bays for each technician. Whether they are marked out lines or partitions, this gives each technician their own working space. Furthermore, PDR technicians are known to be territorial in terms of their equipment and in some cases their work. In terms of management, the larger the number of technicians, the more complex the organisational structure becomes.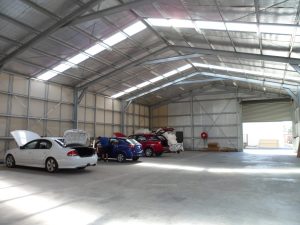 As you can see, the shed has ample lighting, space and also had two large door access – great for an assessing centre as well – which it was utilised for!
So in response to these factors, the typical dimensions of a vehicle and allowing for space for the movement of stands and use of long rods, ideally each workspace should be at minimum 5 x 7 metres although 6 x 8 metres offers more comfort.
The passage way for a car should be about at least 3-4 metres wide as well as the door. This allows for cars to be driven in and out of the work shop. The combined width of the workspace and driveway or passage way should be about 10 metres minimum allowing for safety a margin buffer zone between the technician's workspace and the drive way.
The shed office is not required to be specifically large although there should be sufficient space for managers to operate, and a comfortable space for customers waiting for their vehicles. Typical dimensions for an office is perhaps 25 square metres. If security of the company data and information is important, a separate room for an office is recommended with lockable doors.
The PDR business lay-out in the image shows the example that has worked in a real storm event. This example shows ample space for all technicians and sufficient space for reversing vehicles. This workshop also had two roll-a-doors allowing for an assessing centre for which it was used in the initial part of the storm. The office was also very large and very modern with air conditioning comfort for the customers and management. It allowed for a television and lounge setting as well as a table. This workshop easily was able to work comfortably up to 12 PDR technicians simultaneously. The dimensions of this workshop was about 12 by 30 metres. From a lighting perspective, the transparent sheeting was not ideal as compared the lighting in the example at the top of this page.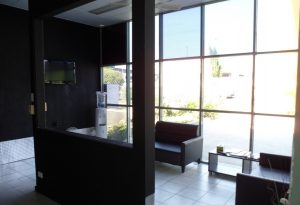 The premises had phone line on the premises although the company opted for wireless technology.
Shed Location
In considering the choice of the premises, the importance of shed location (road access etc proximity to customer Base including panel shops) should not be overlooked. Having access to a major road within the storm region is important. It would be a good idea to check the regulations of local government in relation to advertising banners.
Cost of leasing a premises or partnership considerations
This is one of the most difficult components in the set up process particularly in the initial stages of a relatively new company. It is not uncommon to have 6 to 12 month leases in the order of $50,000 or more. This has to be allocated and obviously paid at some point. There of course is no guarantee of work and the break even point could take some weeks to be overcome depending on the operation. The general strategy therefore is to perhaps begin operations as a joint venture with another well established company during the first several storm events or at least until a significant safety net is in place for such layout of expenditure.
PDR in car parks are NOT recommended and likely not legal in Australia
A summary of the checklist to consider if moving ahead with a premises are:
– Lease time Frame and availability
– Understanding terms and conditions of the lease
– Council / State and insurance requirements and regulations
– Cost
– Consideration of OH&S for employees and customers
– Lighting
– Parking for customers and completed vehicles
– Ample capital investment funds
– Work is available
In terms of availability, it is imperative that a sense of what is available quickly is ascertained. Your company or partnership must be absolutely certain that at least $50,000 or more is available for investment in a premises and that there is guaranteed work in the area. If there is the safety net, then perhaps it may be advisable to be ready to pounce on the ideal premises if it is ideal and there are fewer available. Remember, other Paintless Dent Repair companies are doing the same. This period is not known as the stress period for nothing!
Related Terms: